About freshsnow.jp
Skiing was a sport I loved when I grew up in Canada. I lived in Victoria, BC, Canada, which didn't have any ski mountains around it but there was Mt. Washington (much bigger now then when I was a kid) and Forbidden Plateau (this mountain has since closed) only about 3 or 4 hours away. Despite the distance, I would normally get in about 10 days a year. From time to time, I would also get over to Blackcombe and Whistler or even Tod Mountain in Kamloops (now known as Sun Peaks) but Tod Mt was so incredibly cold (that also meant really light snow though).
After University in Canada, I moved to Tokyo in the mid 1990s and have been here since then. Japan is an amazing place for skiing (and snowboarding)! It has about 450 mountains according to some of the boards I have read. Japan is also a relatively small country which means all those mountains are pretty dam accessible! Even more cooler are the lift ticket prices! The prices are so bloody cheap, outside of the big resorts of course, and at least half the price I would pay in western Canada today. The snow is also incredible. For instance, Hakuba gets close to 12m of snow per annum. Even from Tokyo, there are a lot of mountains you can do a day trip by Shinkansen (Bullet Train). While the rest of the world is seeing 9%+ inflation in 2022/23, Japan has finally come out of deflation and posted only about 3.8% inflation in 2022. What's more is that the Yen has also really devalued. In 2020, it was Yen 107 / USD 1. It has now devalued to Yen 149 / USD 1, as of Oct, 2023. That means Japan is cheap, cheap, cheap!
I always wanted a database of all of Japan's ski mountains, one that I could search because there are just so many mountains. The technology over the last 10 years or so has improved, especially with powerful open-source G.I.S. systems like QGIS, access to digital elevation models (D.E.M.), tools like mapbox-gl-js & datatables for jquery and especially the access to geographic data from openstreetmaps.org (OSM)! There are also many ways to learn about this technology via Youtube.com, Udemy,
etc. I would highly recommend Victor Temprano's courses concerning GIS and web mapping. He was quite inspirational at the outset of this project and answered a lot of my questions. Essentially, freshsnow.io is an amalgamation of all of these technologies.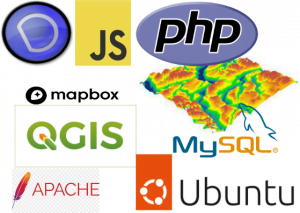 With the data from openstreetmaps.org combined with a bunch for GIS processing, I was able to create an highly interactive ski resort map of Japan. While it currently has about 265+ mountains and not the 450 mountains I mentioned above, it does have the biggest and best ones in thedatabase. I am continuously adding more mountains, ski runs (pistes), lifts, etc along with English translations of the mountains. If you edit OSM, those changes are (almost) automatically rolled into this database. The interactive map allows you to search by geography, altitude (min / max), vertical, ski resort area, length and count of ski lifts and pistes (ski runs) and a bunch more. One cool feature I like from mapbox-gl-js is the javascript flyto() method! I have added a button on each line in the datatable. Click it and quickly 'fly over' to that mountain!
Ah, thanks for asking! My favorite ski resort is Hakuba! It comes with 10 awesome ski resorts, 104 ski lifts (77.9km is total length), 147 ski runs/pistes, etc. Happo-one has 1,087m of vertical making it the third largest mountain measured by vertical in Japan… well at least in my database …. and I am pretty sure I have all the big mountains.
freshsnow.jp is a brand and 100% owned by Dunlin Hills Co. Ltd.