There are many ways to get to Hakuba Valley. Most people arriving from overseas will either arrive at Haneda Airport or Narita Airport but some may wish to stay a few days in Tokyo before traveling to Hakuba Valley. We look at all the of the different ways to get to Hakuba Valley from downtown Tokyo or Haneda Airport.
Table of Contents
Which Airport is more Convenient to get to Hakuba?
There are two main airports, Haneda Airport and Narita Airport.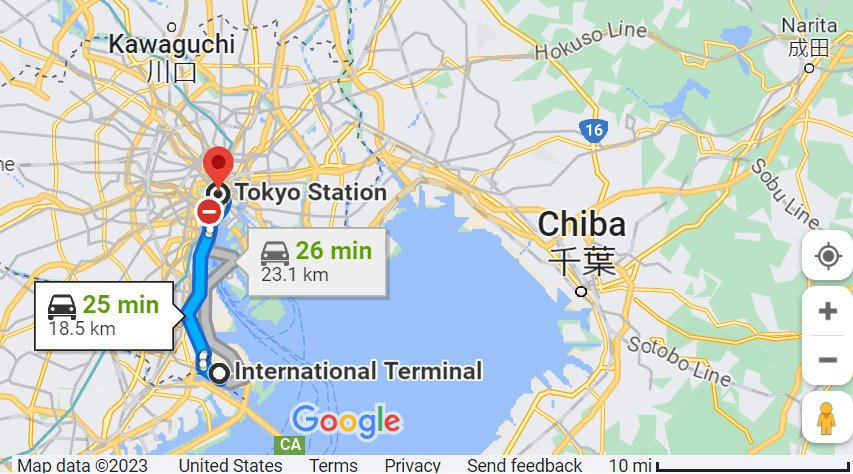 Haneda Airport was Tokyo's first international airport serving Tokyo and the region. It is located relatively close to downtown Tokyo. For example, from Haneda's Terminal 3 (the main international terminal) to Tokyo train station by taxi, it takes about 25 minutes, subject to traffic and the time of day. As air travel increased, including international travel, Narita Airport came online in 1978 and was built much further outside of Tokyo. For example, from Narita Airport Terminal 2 to Tokyo train station, it takes about 1 hour and 15 mins (abt 75km), again, subject to traffic and time of day. In fact, Narita is not in Tokyo but in a neighboring prefecture called Chiba. Up until 2010, most of Greater Tokyo's international travelers embarked and disembarked at Narita Airport while Haneda Airport handled most of its domestic routes, although Haneda Airport did maintain a small international terminal mainly serving routes in Asia during the same period. A large international terminal, Terminal 3 (open 24 hours), and a 4th runway was added around 2010 at Haneda Airport. More and more international passenger traffic is moving to Haneda Airport.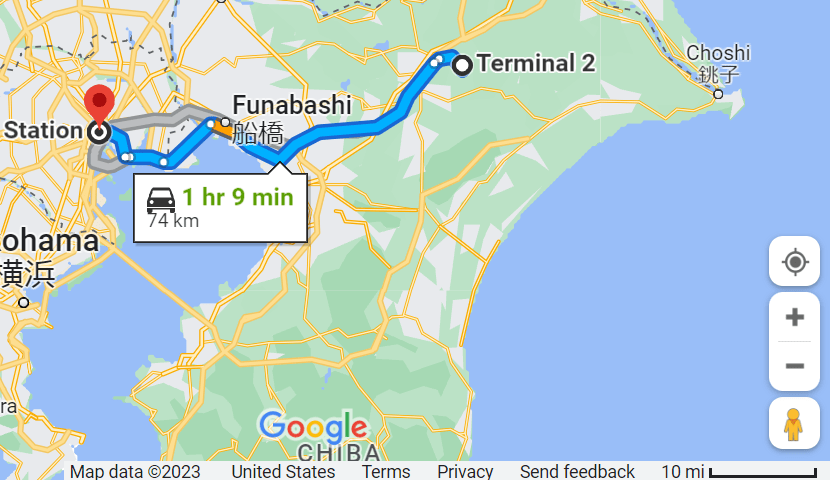 Having arrived at either Narita Airport or Haneda Airport, you can either go directly to Hakuba Valley or stay in Tokyo for a number of days.
Where Exactly is Downtown Tokyo Anyway?
Tokyo is a massive city and according to Wikipedia, it is indeed the largest city in the world with 39 million people (refer here). There are hundreds of train lines below and above the ground. If you are only passing through for a couple of days, it may be best to align yourself on one of the Yamanote Line stops. The Yamanote Line is a ring line encompassing a significant chunk of the most dense areas of Tokyo. Staying somewhere on this line will also make it easier for you to continue your journey to Hakuba Valley.
How do I get to Downtown Tokyo from Haneda Airport?
There are several ways to get into Tokyo from Haneda Airport. The main routes include commuter train, taxi and bus, each having its pros and cons.
How to get to Downtown Tokyo by Train from Haneda Airport?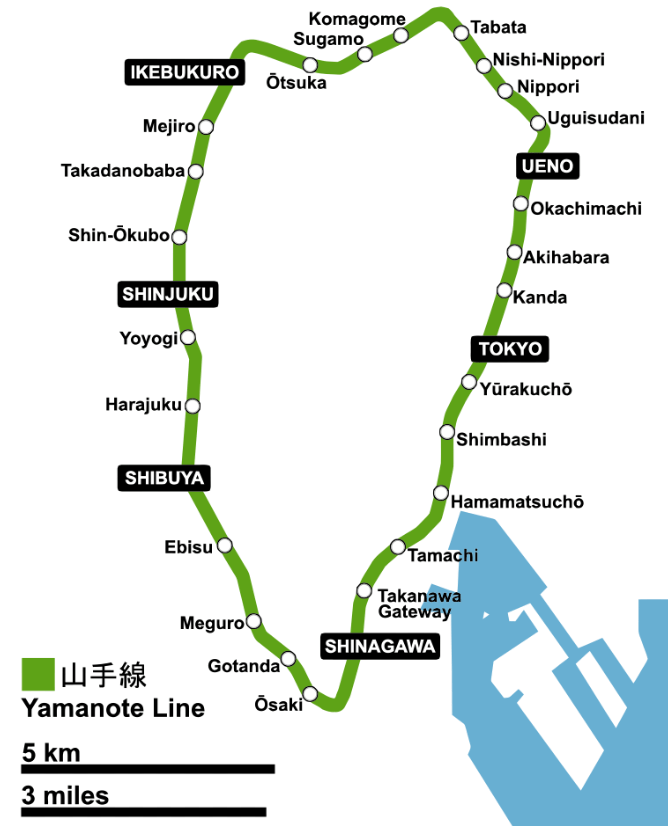 From Haneda, the cheapest way is probably to take a train. There are two train lines serving Haneda Airport, namely, the Tokyo Monorail and Keikyu lines. The Tokyo Monorail starts from under the airport and will take you as far as Hamamatsucho station on the Yamanote Line (see Yamanote Line map). You can get to Hamamatsucho for about Yen 490/ adult or Yen 250 / child and about 20 minutes. Alternatively, you can take the Keikyu, also from under the airport, to Shinagawa (Yen 300 / adult) or Shinbashi (Yen 420 / adult) train stations on the Yamanote Line within 25 minutes.
How to get to Downtown Tokyo by Taxi from Haneda Airport?
After a long haul airplane ride and faced with the need to haul your skis or snowboard gear through rush hour doesn't sound fun, a taxi is much more expensive but equally fast (subject to rush hour or time of day) and very easy to use. You can probably get a taxi from Haneda Airport to Hamamatsucho train (I frequently bump into skiers and snowboarders on route at the Hamamatsucho) station on the Yamanote Line for Yen 5,000 to Yen 7,000. Make sure you show your credit card when boarding the taxi, just to be safe (or maybe you have cash). Remember, no tipping! Zero! Nada! It just isn't custom here. Maybe out at a ski mountain with lots of "westerners", you will have the opportunity to tip but not in Tokyo. More times than not, the expressway is the fastest way into the city so be sure to tell the driver this.
How to get to Downtown Tokyo by Bus?
The last route from Haneda Airport to downtown Tokyo is via bus. There are a lot more destinations served by bus without having to transfer like the train. It is also a lot easier to stow your skis and snowboard is the large luggage holds of the bus. There are also several operators. You can get to several locations around the Yamanote Line by bus. Check out the station names you can get to here. Bus is about Yen 500 to Yen 1100 / adult.
How to get Directly to Hakuba Valley from Haneda Airport?
If you want to skip a visit into Tokyo and go directly to Hakuba valley, there are 3 main routes, namely, by bus, by private shuttle and by Shinkansen (aka the Bullet Train).
How to get Directly to Hakuba Valley by Bus from Haneda Airport?
There are 2 main companies that offer a bus service from Haneda Airport to Hakuba Valley, namely, Nagano Snow Shuttle and Alpico Bus.
The Nagano Snow Shuttle only offers service to Hakuba during the winter months with strong demand. For the 2022/23 ski season, buses departed Haneda at 0730hrs and 2100hrs. The 0730hrs bus arrives in Hakuba around 1300hrs (5.5 hours). The 2100hrs bus arrives about 0130hrs (4.5 hours). All the buses terminate at Hakuba Base Camp which is at the foot of Echoland. Prices for the 2022/23 season were Yen 10,800 / adult for the morning bus and Yen 12,000 / adult for the evening bus. Reservation are made only online and are a must – you can always show up to see if there is a seat but you will need cash only. They have a change and cancelation policy you should check out. If you miss your bus due to delay by the airline, there is no refund, however, you are welcome to take your chances on standby for an empty seat on the next bus. As the time between the two buses is significant, it may be better just to claim the ticket on your travel insurance, if you purchase it. The website is fantastic, easy to use, and all in English with a great FAQ.

Alpico Group did not offer transfers from Haneda Airport to Hakuba in the 2022/23 season. Let's hope they do in the 2023/24 season. We will update the site again once the details are known.
How to get Directly to Hakuba Valley by Private Shuttle from Haneda Airport?
Sometimes you just want convenience. A private shuttle can rid you of all the problems of transferring trains, buses and even that last mile to your hotel or vacation home from the train station or bus stop. Door to door services have increased in popularity and, judging from the prices, we can see why.
Soushin Taxi offers a flat fare to anywhere in Nagano, including Hakuba. From Haneda Airport to anywhere in Hakuba valley, the 2022/23 price stood at Yen 102,000 for a 5 to 9 person mini van. The 5 seater is indeed more luxurious than the 9 seater. You can view the passenger and luggage configurations. If you are packing skis and snowboards, the mini van will have less space for people.
The Luxury Fleet (change to English at the bottom of the site), another private mini van operator, offers equally competitive prices and luxury. Choose from the luxurious Toyota Alphad to the 9 seater HiAce.
Chuo Taxi offers a shared shuttle service from Haneda Airport to Hakuba Valley. Rates are indeed very competitive at Yen 16,500 / adult. Check out more info here.
How to get Directly to Hakuba Valley by Shinkansen (Bullet Train) from Haneda Airport?
There is good news and bad news here. The bad news is that you can't get all the way to Hakuba by Shinkansen but the good news is you get about 2/3 of the way there in terms of time. The last 1/3 is by bus from Nagano train station to Hakuba Valley.
The Hokuriku Shinkansen (Bullet Train) runs from Tokyo Station, located on the Yamanote Line, to Nagano (also known as Ueda). You will need to take the train or taxi to Tokyo train station.
Unfortunately, there is no direct train service from Haneda Airport to Tokyo train station. You will need to take either the Keikyu Line or the Monorail from Haneda to the Yamanote Line. For Keikyu, we would suggest to change at Shinagawa train station to the Yamanote line that will connect you with Tokyo train station. It is about a 3 to 5 minute walk between stations. If you take the Monorail, you will get off at Hamamatsucho station and need to walk over to the Yamanote Line's Hamamatsucho train station, also about a 3 to 5 minute walk. I would recommend the Monorail over Keikyu due to the luggage storage space on the Monorail. You can buy your Shinkansen tickets once you arrive at Tokyo station. There is no need to exit the station once you have arrived at Tokyo. You can buy tickets from within the station.
At the time of this writing, the Series E7 Shinkansen is employed on this route. There are 6 stops after Tokyo; Ueno, Omiya, Takasaki, Karuizawa, Sakudaira and Nagano (Ueda). Travel time is 1 hour and 22 minutes to 1 hour and 49 minutes, depending on which train you catch. There are 3 classes of fares; Ordinary/Regular Cars, Green Cars (first class) and GranClass (one more class above first class). Tickets start at Yen 8,340 per person per one way. You can buy tickets easily at Tokyo train station either at the automated teller or in-person at the Midori no Madoguchi (みどりの窓口). Ski season is always busy in the mornings but in our experience the most you would ever have to wait is 1 train if you were very picky about your seats or you need several seats beside each other. You don't want to be running to catch your train so buy the ticket for the train with enough buffer time to get there; we would recommend about 25 minutes in advance.
Once you have arrived at Nagano train station, you will need to walk for about 5 minutes to the bus stop. Exit via the east exit and go to bus stop number 26. Buses are either reserved or non reserved and schedules are located here. It is always a good idea to buy you tickets ahead of time on line here.
How to get Directly to Hakuba Valley from Downtown Tokyo
While above we dicscussed how to get to Hakuba via Shinkansen (aka the Bullet Train) and bus to Hakuba Valley, there is actually a direct train route to Hakuba valley. The route does not require any changing to other trains, either. There is one train a day departing from Shinjuku at 0800hrs each day for Hakuba train station. The name of the train is JR Azusa Express #5. It takes just 3 hours and 42 minutes and is only Yen 8,050 / person. Before jumping on the train, ensure you bring along water some snacks for the trip. There is no food service on the train.
If you miss the 0800hrs train that goes direclty to Hakuba station, then your trip will take considerably longer. For examle, there is a noon departure that arrives at Hakuba station at 1715hrs for a total travelling time of 5 hours and 15 minutes including 2 tranfers and associated waiting time.
The JR Azusa Express #5 returns to Shinjuku under the name JR Azusa Express #46. It departs Hakuba station at 1516hrs and arrives at Shinjuku at 1909hrs for a total travelling time of 3 hours and 53 minutes.