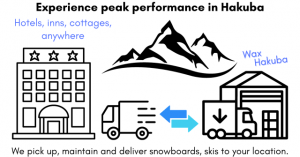 If you plan on visiting Hakuba Valley you'll be happy to know you can get your skis or snowboard waxed and they will even pick up and delivery your skis or board back on the same day, depending on when it was picked up.  It is run by no other than Hirotsugu Yamada, a former JSBA certified professional snowboarder.
That's right, they pick up the customer's snowboards or skis from their location, perform the necessary maintenance at their workshop, and then deliver them back to the customer. The pick-up hours are from 1100 hrs to 2100 hrs. The delivery (drop off) time varies, depending on the day's orders, but if they pick up by 1700hrs, they can usually deliver by 2000hrs to 2100hrs, the same day.  Orders placed by 2100hrs can normally be delivered on the same day, too. If it's not possible to deliver on the same day, or if the customer has already gone to bed, they can deliver early the next morning before hitting the slopes, like 0600 hrs to 0800 hrs.  Talk about dedication to the sport & business!
They operate a prime location just above Echoland.  While the business is primarily pickup and drop off, they do accept walk-ins, but you need to call ahead to ensure staff is there to receive your skis or boards; they may be out for a pickup or drop off.  Their location is here.   You can reach them by phone at 080-6931-3353 or internationally at +81-80-6931-3353.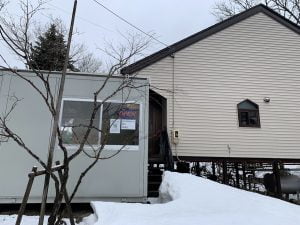 The business has been around for about 10 years, since about 2013, and have plenty of great reviews here.  For instance, Thomas Naylors said, "Will wax/tune your board to perfection and ride better than it was brand new".  Glenn Cahill says, "No exaggeration – this was the best tuning of my boards that I have ever received. My boards are almost 10 years old and wax Hakuba made them look new!".
oh, and did we mention the price?!  Yen 3000 for a hot wax, Yen 3,000 for edge tuning and, if ordered together, Yen 5,000.  There are other options for base repair jobs, discounts for regular seasonal services, etc, You can also order & pay for the required services online.

We wish Yamada-san continued success with his business and his love of snowboarding!  We love to support small businesses.  If you have a business you would like us to review mail us at powpow@freshsnow.jp.